BODY WEIGHT: 194.2 lbs
Told you my weight was going to go back down! haha
Thank goodness for intermittent fasters proving it doesn't matter when you eat, you'll still make gains if you put the same ingredients in the body and do the same exercise that gets you ripped and jacked.
Didn't have my first meal until noon, which was a 33oz smoothie.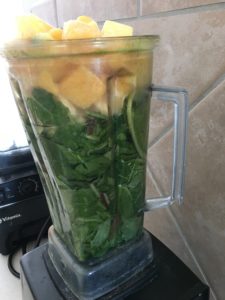 As I prepare my morning smoothie, my brain is involuntarily, obsessively, scanning forward and back through my anticipated schedule. Searching, seeking, scanning for any and all opportunities to insert some intense exercise. 5 minutes here. 3 sets there. 20 reps there. Computing logistical requirements, calculating caloric expenditure, metabolic gains, glycogen uptake, afterburn fat loss. Imagining myself crushing a set of push-ups to failure right now, while the blender is blending, despite my shoulders and triceps being so sore excites and fills me with anticipated satisfaction. Every set and rep log feels like money being deposited in my bank account. So much winning to be had. So much gains to reap.
My brain cells are reorganizing. My addiction pathways are shifting dramatically from craving inactivity and junk food to exercising hard and nourishing.
All of this happening without effort. Without willpower.
I busted out a set of pushups while the blender was on. Felt amazing. 2 weeks ago, a set of pushups just hurt and felt uncomfortable.
Then, I was out the door to do some long drives to some real estate business on a bunch of properties we bought all over the state. I didn't get back until 6pm, with nothing more than water consumed during that time. At 6pm, I had to jump right onto a live stream that I was guest hosting and didn't finish until 7pm, where I finally got to have my second meal of the day. 37oz of smoothie, 7 mandarin oranges, 1 banana, 1 small apple, and kid left-overs. The kid-left overs was a handful of cooked white rice with a glop of beans on top. I was fine until the rice and beans.
For the first time in history, my stomach turned a little right after I ate the beans. I preferred the whole foods so much more. So I dumped a half a bag of kale and an entire container of mushrooms in a pot and steamed it up.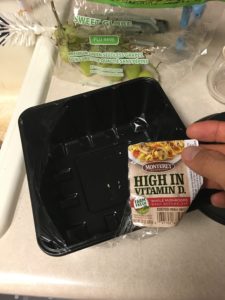 Ate the whole thing. Felt 1000x better.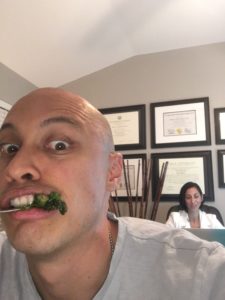 I did not workout until late late. Just finished it right now. It's midnight my time. I did an intense 30 straight minutes of non-stop Tummy Tightener style workouts. Nothing but 45s work, 15s rest exercise pairs.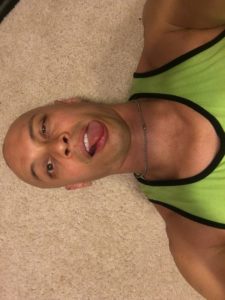 I'm still sweating as I type this.
I paired up 6 different exercises, splitting them up into 3 10 minute rounds. I completed a total of 30 sets at 45 seconds each. With the average gym exerciser's time under tension per set is 20 seconds, I did the equivalent of 68 average gym sets in 30 minutes. Can you now see how the results come so fast? This is only the beginning. Before long, I'll be doing 45-60 min sessions.
Check out the names of the exercises in the workout section. I can only type them once, the names are so long. It makes my fingers tired.
NUTRITION
33oz smoothie spinach, mango, banana (ran out of chia and flaxseeds!)
33oz smoothie
4oz smoothie
7 mandarin oranges
1 banana
1 small apple
1 handful of white rice
1 handful of beans
8oz steamed kale
1.5 lbs steamed mushrooms
Braggs and Sriracha
WORKOUT
Pushups 30
45s Right leg rapid frontal hops 15s rest
45s Pushups 15s rest
45s Left leg rapid frontal hops 15s rest
45s Pushups 15s rest
45s Right leg rapid frontal hops 15s rest
45s Pushups 15s rest
45s Left leg rapid frontal hops 15s rest
45s Pushups 15s rest
45s Right leg rapid frontal hops 15s rest
45s Left leg rapid frontal hops 15s rest
45s single leg right arm overhead triceps extensions 15s rest
45s right leg Romanian deadlift to opposite arm curl 15s rest
45s single leg left arm overhead triceps extensions 15s rest
45s left leg Romanian deadlift to opposite arm curl 15s rest
45s single leg right arm overhead triceps extensions 15s rest
45s right leg Romanian deadlift to opposite arm curl 15s rest
45s single leg left arm overhead triceps extensions 15s rest
45s left leg Romanian deadlift to opposite arm curl 15s rest
45s single leg right arm overhead triceps extensions 15s rest
45s single leg left arm overhead triceps extensions 15s rest
45s bicycle crunches 15s rest
45s floor cobras 15s rest
45s bicycle crunches 15s rest
45s floor cobras 15s rest
45s bicycle crunches 15s rest
45s floor cobras 15s rest
45s bicycle crunches 15s rest
45s floor cobras 15s rest
45s bicycle crunches 15s rest
45s floor cobras 15s rest