BODY WEIGHT: 193.4 lbs
DO NOT MODEL AFTER THIS DAY lol
Woke up at 7:30am and ate half a block of tofu. No smoothie ingredients were in the fridge! Oh, this was a bummer. I had bags of other greens for steaming, and they LOOKED like the smoothie greens bags. Anyway, on the first Tuesday of every month I never drink a smoothie first thing in the morning. The first Tuesday is real estate auction day. That means from the morning until around 1pm, I'm standing around outside with no bathrooms, bidding on properties.
The last time I was at a sale, I made the big mistake of gulping down a big smoothie with COFFEE! Just habit I guess. 10 minutes into the auction, I'm seriously ready to piss my pants right there in front of a crowd of 100 eager property bidders. Well, luckily I was able to hold it, but it was painful. And to boot, I didn't win any properties.
This time? We won a whole bunch. We cleaned house. And that kept us from home until close to 4pm. The whole time I was out, I couldn't stop thinking about getting nourishment in my body. As soon as I got home, I steamed up 3 pounds of kale and mushrooms. I inhaled that whole thing in less than 20 minutes.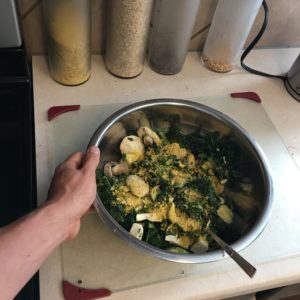 Then, after 6pm, it was time to celebrate our real estate wins. We went to a Vegan brew house called the Beer Plant. We ordered fried buffalo cauliflower and I ordered a seitan sandwich called the Big Bend along with a nice vegan draft beer called Electric Jellyfish.
10 minutes into the meal, I've eaten half of the cauliflower and my whole sandwich, my stomach started aching and I just begin feeling repulsed by the whole meal. I've never done this before, but I didn't even bother eating my sides, which were a bowl of vegan macaroni and cheese and a slaw. I always finish everything on my plate. But this time, I just didn't want to. All I could think about was how much happier I would have been if I had just ordered humongous salad with my beer. If the salad wasn't big enough, I would have ordered 2. I just wanted those greens in me!
This is a HUGE breakthrough with my brain chemistry. This is my first meal that was made up of the most addictive ingredients that I actually ATE, and then quit half way through. The addiction that I have to exercise and greens have actually become larger than my desire AND ENJOYMENT of junk food.
I came home a little pissed (for not having more greens), but a bit excited that my brain addiction pathways were changing so rapidly.
The fail of the day was not working out. I wanted to, but I didn't. I could have done something, but I didn't. I went to bed at 9pm, and didn't wake up until the next day.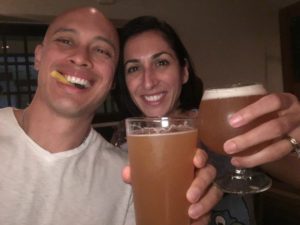 NUTRITION
1.5lbs mushrooms steamed
1.5lbs kale steamed
1 block tofu
1 avocado
Braggs, nutritional yeast
4 mandarin oranges
1 apple
Big bend burger (seitan and garbage)
Buffalo cauliflower (cauliflower breaded and fried in bad stuff)
2 small yellow carrots
WORKOUT
none (fail)