Another full day at sea. So much fun.
My day didn't begin until noon. Yes, I slept in.
The ship was serving lunch, so it was my chance to load up on vegetables. Breakfast is the one time where you aren't going to have luck finding any metabolism raising food. But lunch will always have a great salad bar.
I had 2 bowls of veggies and felt great. One included some delicious sweet potato salad. Full and satisfied. Absolutely zero cravings for any of the other foods I would normally drool over, like waffles and pancakes.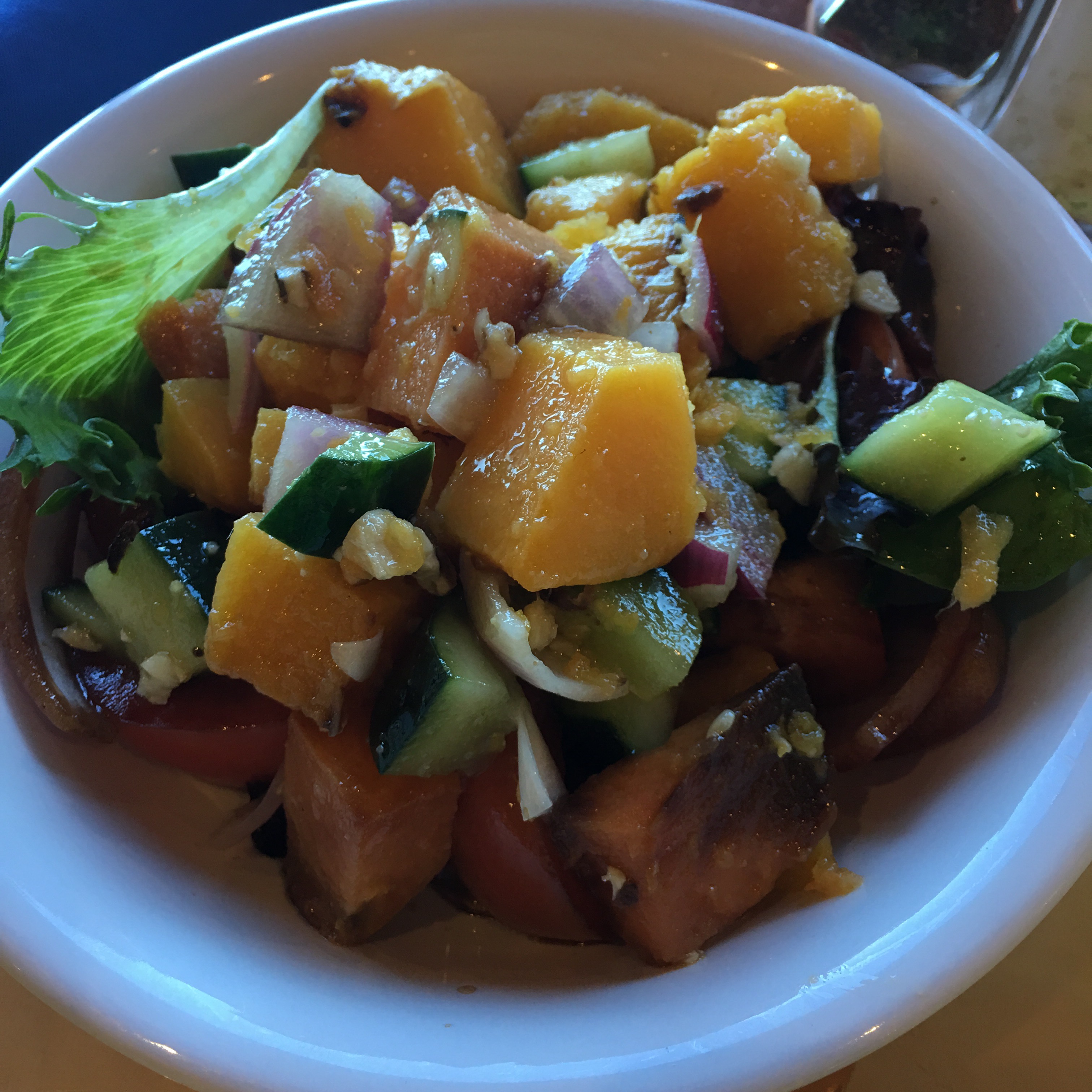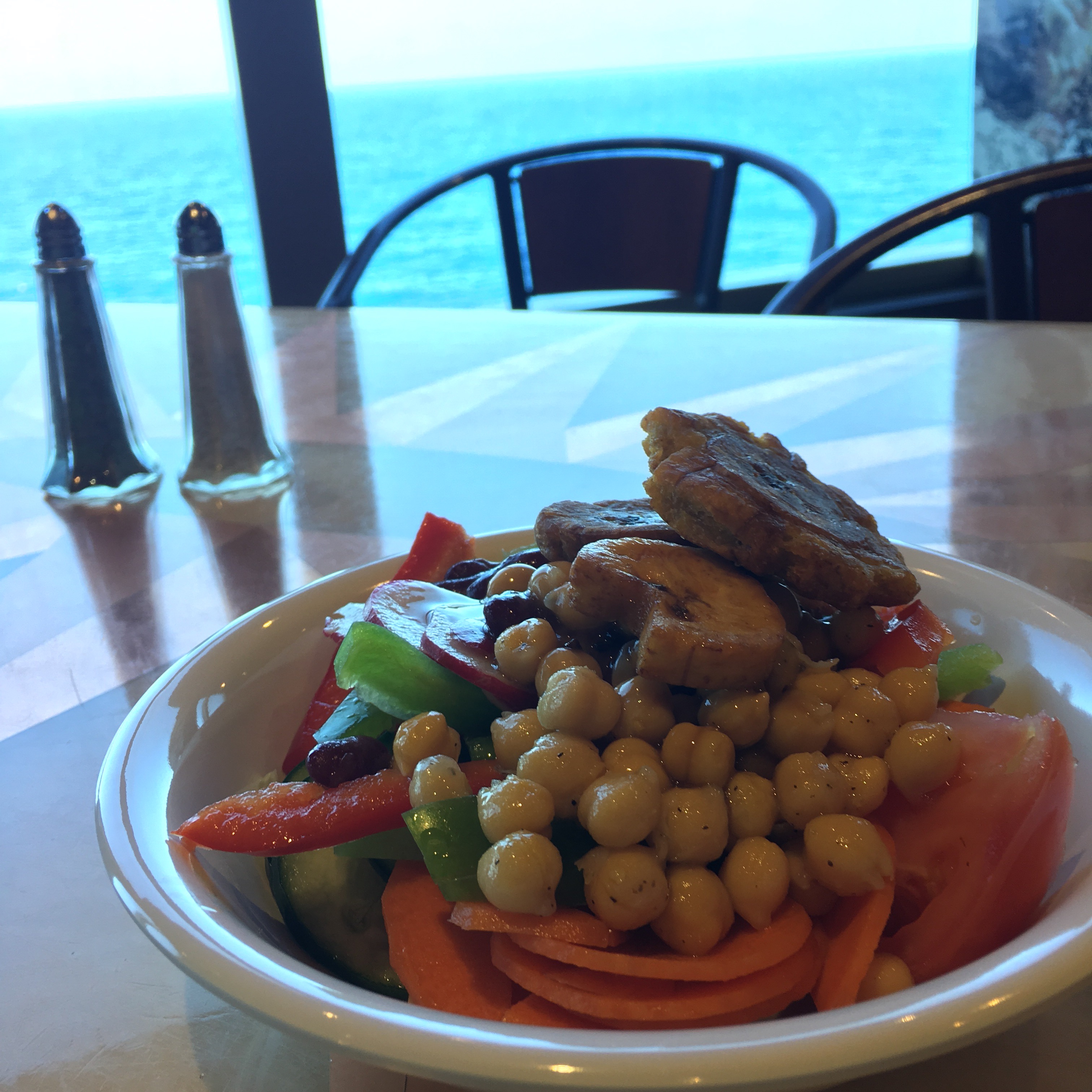 Later on, I enjoyed a delicious Guy's Burger Joint veggie burger, loaded with veggie toppings, and 2 handfuls of fries. This gave me a stomach ache right after I finished. This is a convenient reaction to help me avoid junk food.
Then it was time to get my workout in. I knew it was going to be a monster workout, because my plan was to do a dropset circuit with my lower body. Legs. The gym had 5 leg machines, so I did a warmup set of 20 reps of each machine at an arbitrary weight to determine the heaviest weight to use for my dropsets. Then I did 3 non-stop 20 rep dropset rounds for each exercise. 15 in total. I could barely walk by the time it was over. Despite being unable to walk normally, I had some energy left so I did 3 rounds of dropsets of the abdominal machine.
Dinner 1 was epic. At that time, I was thinking how I could get more veggies in my body. I wanted the equivalent of a big smoothie. I found that solution. I took a giant platter and loaded it with all the raw veggies they had. The plate felt like it weighed 3 pounds. I dressed it with a balsamic vinaigrette and ate the whole thing. I also got a big platter loaded with watermelon. Ate all the watermelon.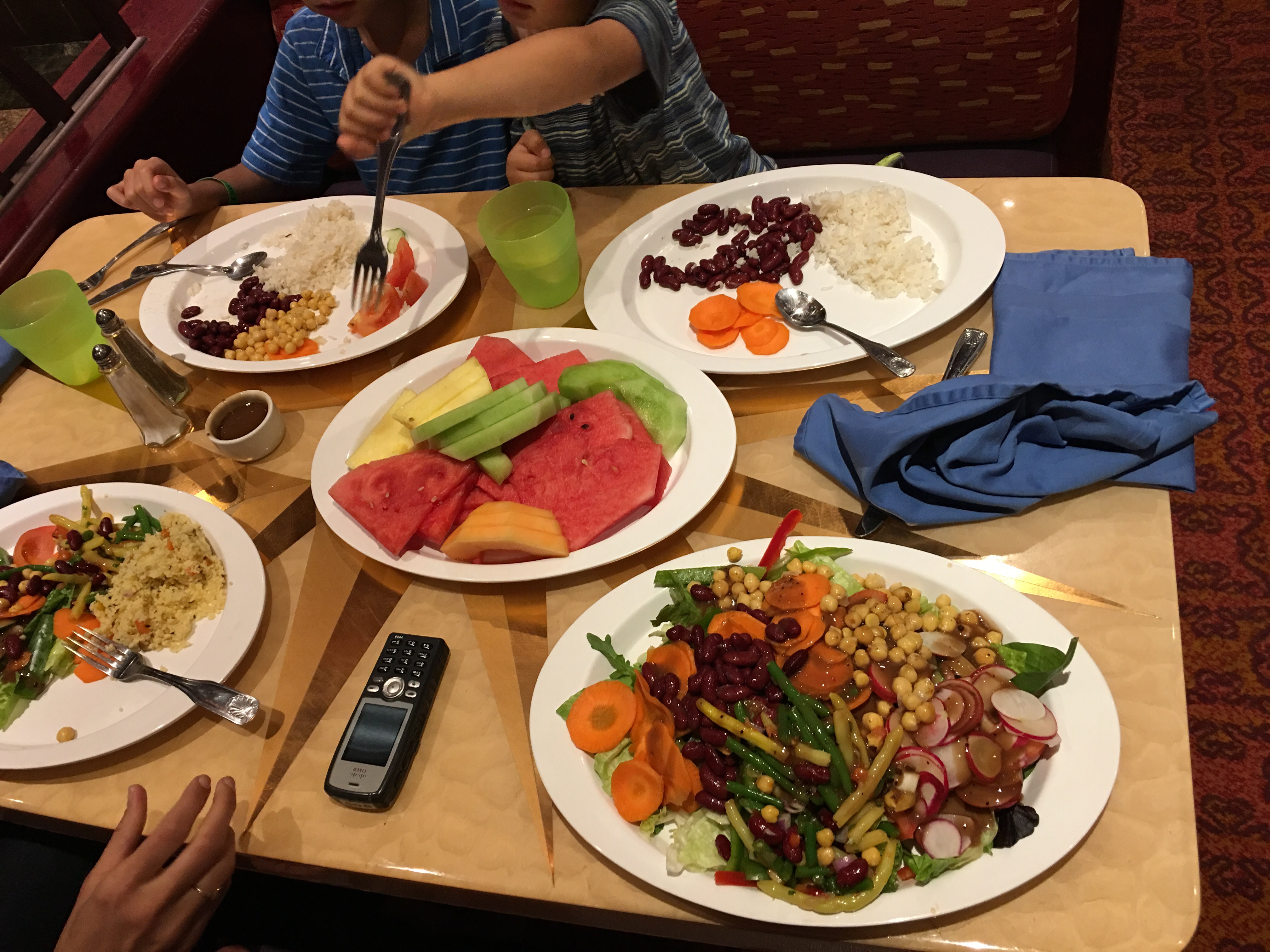 Ahhhh. Now I was satisfied with an overloaded belly full of metabolism raising veggies. I was in good shape now.
Dinner 2 was pure deliciousness. It stared with a garden salad, 2 vegan Indian curries. Peas, spinach, and potato over rice. Then a roasted tomato stuffed with quinoa over green beens. We finished with a delicious soy custard. Now I could hardly walk. Not because of my legs, but because of my full belly.
2 bowls veggies
1 veggie burger loaded with lettuce tomato
2 Handfuls of fries
Massive platter of veggies salad w/balsamic vinaigrette
Plate of watermelon
Small dinner salad with lemon and orange juice dressing
Indian spinach and potato curry, peas, over white rice
Roasted quinoa stuffed tomato over green beans
Soy custard
WORKOUT
3 Dropsets after 20 rep weight gauge warm up
Leg extensions 20 warmup, 22, 20, 20
Leg curls 20 warmup, 20, 20, 20
Leg press 20 warmup, 20, 20, 20
Hip adduction 20 warmup, 20, 20, 20
Hip abduction 20 warmup, 20, 20, 20
Machine abdominal 20, 20, 20